When every industry is shifting towards online, whether it is Finance, Educational, Healthcare, etc., the eCommerce market touches the roof like never before. As of 2021, the global eCommerce market is to reach $5 trillion, and in the upcoming year (2024), it may hit over $6 trillion.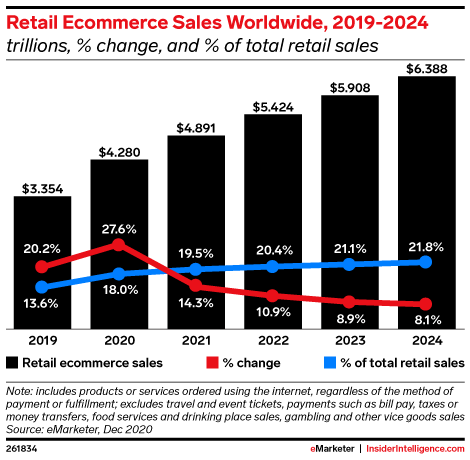 So, are you ready with resources like eCommerce marketing tools or apps to scale your business growth?
If not yet! Start investing in it by today. These marketing tools widen your business growth, sustainability, and most importantly, give you the chance to target potential customers worldwide.
Luckily, we have a vast variety of tools available for eCommerce marketing, but you might encounter problems like:
Whom to focus on?
Where to start?
What is the function of the tool?
Which eCommerce marketing tool will work best?
Therefore, to ease your work, we have compiled a list of some fantastic ecommerce tools that would be worth your time and money. So, before you spend a fortune, go through the entire blog to know the features of each tool and its purpose. However, we have broken down the list of tools four three main categories:
Marketing Automation Tools
Analytics Tools
Website Optimization Tools
Email Marketing Tools
10 Best eCommerce Marketing Tool To Scale Your Business Growth
Whether you have B2C and B2B, these are the essential resources for people who are in marketing and sales finding a way to grow their business.
Marketing Automation Tools: Improves Your Working Efficiency
This section of tools will help you in automating the marketing actions. These tools are designed for digital marketers to boost their marketing efficiency, target potential customers, campaign performance, etc.
1. HubSpot
HubSpot
Basic Information:
Official Website: https://www.hubspot.com/products/marketing
Free trial: 100% free
Pricing:
Starter: Starting at $50/month
Professional: Starting at $890/month
Enterprise: Starting at $3,200/month
What business problem does it solve?
HubSpot is one of the must-have marketing automation tools for all digital marketers who want to manage their workflows. It lowers your effort to do repetitive marketing tasks. You can even use this to capture complete data of a customer's life cycle.
Why Do We Recommend It?
Fully integrated marketing platform
Easy Ad Tracking & Management
Social Media Management
24/7 Customer Support with live chat
Quick & personalized onboarding plan
Account-based marketing
Adaptive testing
Predictive lead scoring
Multi-touch revenue attribution
2. Drip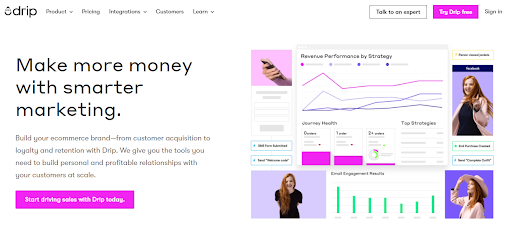 Basic Information:
Official Website: https://www.drip.com/
Free trial: 14 Days Trial
Pricing: $19 monthly
What Business Problem Does It Solve?
Drip is a well-functioning marketing automation tool designed to drive more revenue in easy steps. It is widely helpful for comprehensive tracking and builds a visually attractive workflow of Ad campaigns.
Use this effortless tool for customer acquisition to retain credibility. Further, this can also be used to build fruitful relationships with your potential customers. Since its inception, they have helped many ecommerce marketers to generate more than $1 billion in the attributed revenue. Currently, they have over 27,000+ trusted marketers worldwide.
Why Do We Recommend It?
Send emails with ease.
Customizable forms to Capture and convert website traffic.
Full library of integrations 100+ (like Shopify, Magento, Facebook Custom Audiences, Zapier, etc.)
A/B Split Testing
Product Content Blocks
Shiny, Pretty Templates
Liquid Templating
3. ActiveCampaign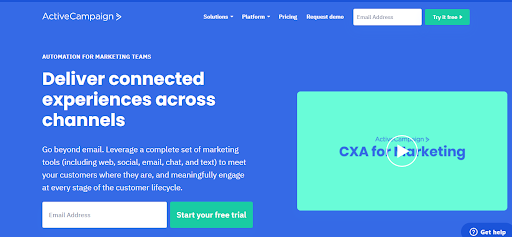 Basic Information:
Official Website: https://www.activecampaign.com/solutions/marketing-team-automation
Free trial: 14 Days Trial
Pricing:
Lite: $9/mo Paid yearly (USD)
Plus: $49/mo Paid yearly (USD)
Professional: $129/mo Paid yearly (USD)
Enterprise: $229/mo Paid yearly (USD)
What Business Problem Does It Solve?
ActiveCampaign is a smart marketing automation solution that leads to a better experience with just simple clicks. It will let you go beyond email and help you in engaging customers at every stage. It is an amazing drag-and-drop automation builder that allows marketers to set up automated workflows quickly.
Why Do We Recommend It?
Track the entire customer lifecycle.
Quick migration of your email templates, contacts, and sign-up forms.
It lets you connect every channel you use in your business.
Easy to figure out which marketing campaign is getting results or which not.
Easy to understand what people are doing over your online store.
Analytics Tools: Have Powerful Data-Driven Insights
Your business needs access to different data and metrics to analyze your success and areas for improvement. For this, you need an Analytics Tool for insightful data about your customer, revenues, etc.
4. Google Analytics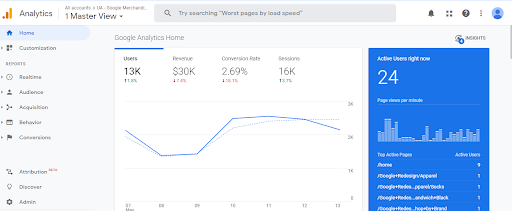 Basic Information:
Official Website: https://analytics.google.com/
Free trial: Free
What Business Problem Does It Solve?
Google Analytics is a free, powerful, and easy-to-use analytic tool for all marketers out there. Many eCommerce marketing companies are using it to track traffic at each stage of the funnel.
Why Do We Recommend It?
Get a deeper understanding of your customers.
Easy sharing of the insights across your organization with different use of reporting tools.
Understand how your app & site users are engaging with your content.
5. Kissmetrics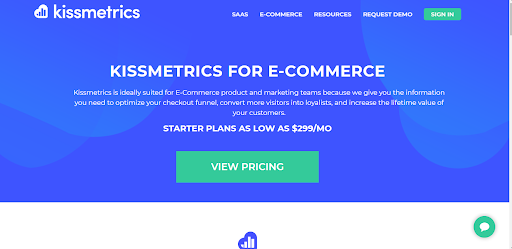 Basic Information:
Official Website:https://www.kissmetrics.io/
Pricing:
SILVER: $299 Billed Monthly
GOLD: $499 Billed Monthly
PLATINUM: CUSTOM Billing
What Business Problem Does It Solve?
Kissmetrics is a prominent analytics tool that can provide you with advanced reporting for your eCommerce website. It breaks down the result to an individual level rather than giving you the broad results of your website. You will have a visual report for the question, like the number of times a customer visited your product page or has checked your site.
Moreover, by using Kissmetrics, you can even improve your remarketing strategy. It will help you in identifying all the channels that are bringing the highest ROI.
Why Do We Recommend It?
Easy recognition of which campaigns are performing in just a single click.
Figure out how your website & app designs are impacting your conversion rate.
A/B test design element
Know metrics like bounce rate or time-on-site.
6. Metrilo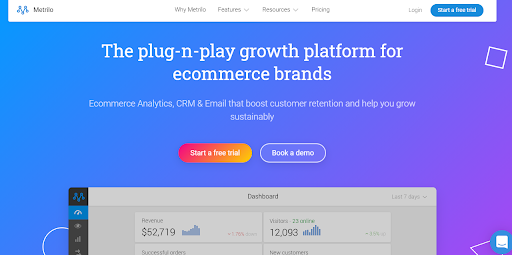 Basic Information:
Official Website: https://www.metrilo.com/
Pricing:
Essential: $119/mo
Pro: $199/mo
Premium: from $299/mo
What Business Problem Does It Solve?
Can you imagine combining an analytics platform, CRM, and email marketing under one roof? Yes, it is possible to do with Metrilo. It is a one-stop solution for all ecommerce store holders.
You can use this tool for conversion tracking, cart abandonment, sales attribution, and customer insights on a real-time basis. Besides, it allows you to set specific goals to track successful purchases and retargeting campaigns for particular customers. Thus, Metrilo is the analytics tool you must invest in for all your marketing needs.
Why Do We Recommend It?
Monitor what is going right and what's wrong with your store in real-time.
Historical data sync and sales attribution.
5-minute integration for some official plugins like Shopify, Magento, WooCommerce
Website Optimization Tools For Ecommerce Store
7. Ahrefs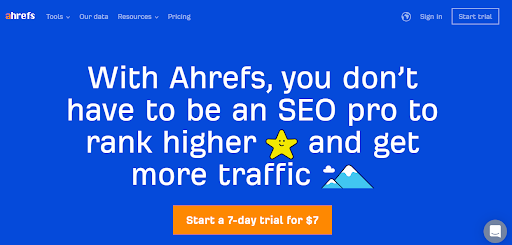 Basic Information:
Pricing:
Lite: $99
Standard: $179
Advanced: $399
Agency: $999
What Business Problem Does It Solve?
To prepare yourself for fighting against your competitors, Ahrefs is your guy. Whether you need to improve the on-page or off-page of your website, it is a fully functional ecommerce website optimization tool. From keyword analysis to spying on your competitors, Ahrefs is something every digital marketing company relies on.
It will provide in-depth traffic reports, recognize problems that lead to cart abandonment, the point where the bounce rate is high, where the customers spend the most time, and similar.
Why Do We Recommend It?
SERP position history
Keywords lists
View for each Top page, Top subdomains, or Top subfolders report.
The ability to track mobile rankings.
8. Semrush
Basic Information:
Pricing:
Pro: $119.95 per month
Guru: $229.95 per month
Business: $449.95 per month
What Business Problem Does It Solve?
It is quite challenging for a digital marketer to stay ahead of competitors without using a powerful SEO tool like Semrush. This tool is an expert choice to know the metrics for traffic, leads, sales on your ecommerce store. No matter what size your business holds, you always wish to sell your product at a massive count.
Something like the Semrush website optimization tool is great to have for your business. Since 2008, SEMRush is a professional ecommerce tool that helps you extract all information and data about your customer. It will help you in creating an effective, traffic-boosting SEO strategy.
Why Do We Recommend It?
View Historical Data
Google Data Studio Integration
Share of Voice metric
Run your PPC, SMM, and SEO projects with over 40 advanced tools.
Know your competitors' rankings, traffic sources, social media results, etc.
Email Marketing Tool For Ecommerce Business
9. MailChimp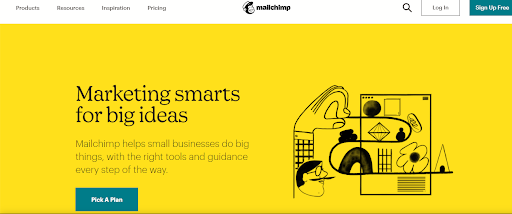 Basic Information:
Pricing:
Premium: Starting at ₹23,000*/month
Standard: Starting at ₹1,150*/month
Essentials: Starting at Starting at ₹770*/month
Free: ₹0/month
What Business Problem Does It Solve?
Spending time on repetitive tasks is just a waste; besides, apply those time and energy to other creative tasks to pay you good revenue. So, why don't you use tools like MailChimp to automate follow-up emails. However, it is not limited to managing your follow-up; you can use it to target group subscribers.
With over 14 million trusted customers, it is the most efficient, cost-effective email marketing solution for all-size businesses. Plus, it offers ease of designing eye-catching, engaging, results-driven email templates and business forms.
Why Do We Recommend It?
Send Time Optimization
Comparative Reporting
Behavioral Targeting
Advanced Segmentation
Multivariate Testing
Email Builder
Marketing CRM
Forms & Landing Pages
24/7 Email & Chat Support
10. Omnisend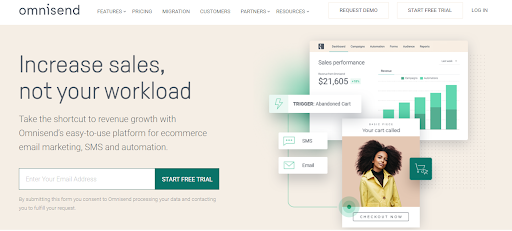 Basic Information:
Pricing:
FREE: $0/mo
STANDARD: $16/mo
PRO: $99/mo
What Business Problem Does It Solve?
Do you wish to simplify the running process of your email campaign? If yes, Omnisend is a great deal. The easy drag-and-drop UI makes it for marketers to design engaging and aesthetically pleasing email templates. In addition, Omnisend is useful in creating personalized emails by collecting data about customers. These data can be used for building a hyper-targeted segment of your email.
Why Do We Recommend It?
Segmentation & Customer Analytics
Sales and Performance Reports
Email Campaigns
Web Push Notifications
Pre-built Workflows
Audience Sync for Facebook
SMS (International)
Final Words
These tools are not a full list of eCommerce marketing tools; there are many more to know. But, I have pointed out some of the most popular, reliable, and efficient tools that facilitate rapid growth in your business.