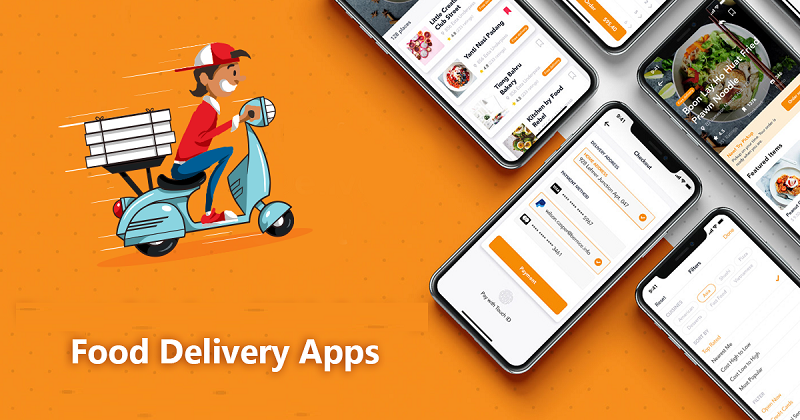 I am sure you would agree by now that smartphone apps do invite a breeze of ease into our lives. They have helped us learn how easy it can be to avail of services and products. A few taps here and there and everything appears at your doorstep.
Before a decade when you thought about ordering food you only had two choices, to cook something for yourself and the other to go out and order take-away. The dine-in option too was an obvious choice. But what if you don't feel like choosing from all the preceding options and want your favorite cuisine delivered at your doorstep. Such an option was only offered by delivery chains such as Pizza Hut, Domino's, or McDonald's.
The advent of these on-demand food delivery apps has not only offered users the increased convenience but also provides small-scale food business owners with an equal opportunity to reach their consumers. Consumer spending on food delivery is on a hike with each passing year. Here are some of the most prominent app integrations to look out for while creating an application.
Simple Registration Process:
What you need to find is a balanced onboarding or first-time registration process. You should acquire enough information about the user to create their basic profile and help them get started with your application. Too long and tedious registration processes force users to leave your platform before even using your services.
As per our app development experience, a consumer should take a maximum of a minute or two to activate their account. For a food delivery app per se, you can ask for profile information, allow them to select their food item and food-related preferences, and collect their payment information.
Advanced Search Filters:
The search filters help a user navigate quickly through your app while saving time. The search bar is the most conventional form of offering an advanced search. It is termed as an advanced search feature as it offers various filters based on discounts, proximity, happy hours, quick delivery, today's specials, and much more.
You can select your favorite restaurant by just typing in the name. Just as you find your desired restaurant you can then search through the same using the menu provided inside. Some of the restaurants just list the items while not offering a menu. Offering a menu helps a user learn what all items can be availed of without wasting their time.

Photos, Delivery Time & Additional Info:
A lot of food delivery platforms don't provide their users with photos of the items they're serving. I would prefer ordering my food from places where I can see what I am being offered. It creates a level of trust between consumers and food providers as they would be able to see what they're about to consume.
As the consumers have grown prone to getting an estimate on the time it would take to deliver a particular order and so it must be calculated and represented from the start. Your platform can also offer other additional information such as total calories, ingredients used, and much more. Offering this additional information about the cuisine creates a different impact on the users. It makes them feel that your platform is taking extra care to help them learn what they're consuming.
Online Payment & Seamless Check-Out:
With the advent of fintech apps, it has become so easy to make online payments. Before a few years, the only mode of payment available was through cash or using credit or debit cards. It's not possible to have cash every time you order and banks charge you after certain online transactions. The fintech apps revolutionized this concept and gave consumers a method to make instant payments while not being charged for the same.
As you add items to your cart and opt for check-out, you're immediately redirected to the payments page and as soon as you make the payment, your order gets accepted. This process is called a seamless check-out. Many times it happens that a user is completely satisfied by the app's UX until they reach the check-out procedure. The check-out process shouldn't be complex. It should be intuitive to help consumers find what they want without having to search for it.
Reviews, Ratings & Real-Time Tracking:
How would a user know about the quality of the new brick-and-mortar restaurants that have just started their online business on your platform? As other users try such restaurants and offer authentic reviews and ratings, other fellow users are made aware of the type of services that are offered by them. This feature also helps the platform and other consumers become aware of any of the adverse services offered by a restaurant.
Another important feature that has become a necessity for users over the years is receiving real-time information on the whereabouts of their orders. As soon as you order you start receiving notifications such as 'order confirmed', 'food is being prepared', and likes. As soon as your order leaves the restaurant you can check in real-time about where your order has reached. The details of the driver help users contact the driver if they lost their way or have any confusion regarding the consumer's location.
Wrapping Up:
Above we learned the essentials of an on-demand food delivery app. If you observe the statistical predictions, the future of the on-demand food delivery business is quite promising. Investing in the same using the right business model and under the guidance of an experienced mobile and web app development company can yield high ROIs. What are your views on the on-demand food ordering platforms? Please share the same in the comment section. Thank you for reading.