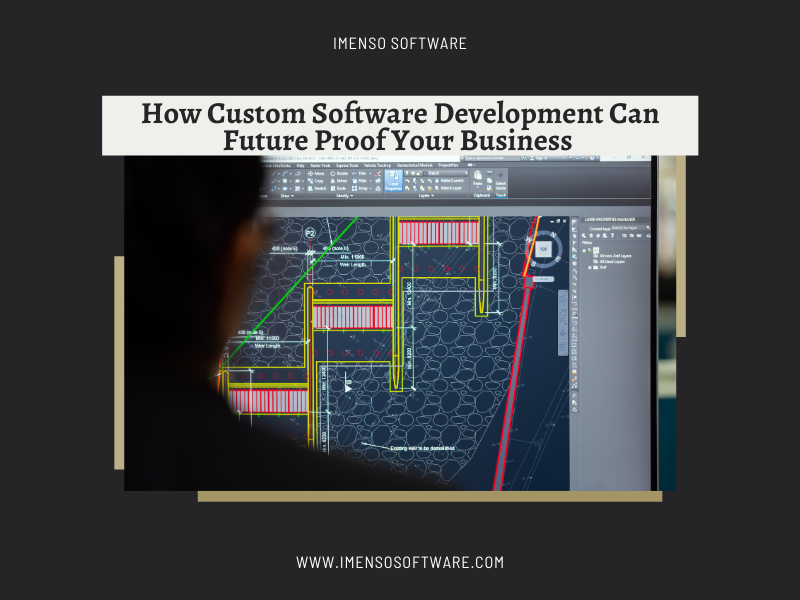 Customer software solutions are tailored to a business's specific need where off the shelf services often fall short. There are many features in an off the shelf product that companies end up never using. And to decide between off the shelf product and custom software development is a never-ending dilemma.
Every business is different and so are the requirements. Custom software development has exactly the features that cater to its processes. These are more customized for a single organization and its employees. Off the shelf, products can't be made to meet all the requirements for all.
Custom software solutions are the way forward for businesses across all industries and sectors. There is no enterprise small or big left untouched from the benefits of custom software solutions. These solutions have many upsides including less training and maintenance cost. It can adapt to a niche and optimize business flow. You don't have to alter your existing process.
Futuristic Business benefits
Now we will discuss the benefits of custom software solutions and how they will assist your business to lead in the years to come.
1. Simplified business processes
For any business to grow over time is it downright essential to crush their business goals every day and gain an advantage over competitors. To maintain such a level of efficiency, you need to find methods to improve business processes and operational cost.
Custom software development is designed to do just that for your employees and business, to reduce the workload of menial tasks and access information in an instant.
For a small business like a local gym, having custom software developed to track gym memberships, monthly payments, and sessions is a huge helping hand for the employee at the counter. Now they can focus more on customer real problems which help to retain more business and thus your business is secured for the future.
2. Unique solution
Leveraging the best programmers in the world, businesses can develop unique solutions via custom software development. Unlike off the shelf products where everybody gets the same solution with an identical set of features and operations, your business can't offer a product or service that's unique.
A stand-alone product also marks a singular space for your business in your niche. Eventually leading your business to dominate the market and secure early wins and future successes.
3. Performance
As the custom software solutions are specifically tailored for an organization's unique needs and processes, it boosts the performance of employees.
Different departments of the company have separate interfaces which are designed to prioritize its requirements. There are fewer issues with the interface of the software and no time wasted in learning and adapting to the new system.
Employees can now focus on their core activities which ultimately leads to better engagement, more satisfaction and higher performance.
4. Flexibility
Web development companies are aware that their client's business will change so now they create flexible technology keeping scalability in mind. If there is a slight chance that there will be alterations in your business model, engagement or expansion then it is the best choice to go with custom software development.
Whether the change will be to add a new department or a new location or more staff, custom software takes care of all the overhead expenses and offers the most cost-effective solutions.
Even during the development time, you can ask your custom software development team to integrate future requirements in the technology.
In an ever-changing world, custom software technology is the one thing you can depend on for the future.
5. Reporting
No need to go through hundreds of rows of excel sheets to get those reports of your business performance. Custom business software can access the entire organization data in one place and create summarized reports to extract all the insights you need for future success.
Reporting is mandatory for every industry to measure its progress. Custom solutions are technologically powered to present customized reports for any metrics. It can be a purchase report for the quarter, client retention figures, most bought items, invoices or anything else, custom software solutions can get every bit of data work for your business.
6. Security
Data for any business is an important asset today. Every business has some type of online presence and customer data, which must be kept away from hackers. Data privacy is important for many people nowadays and it is harmful for a business reputation to lose data in public. Protecting data thus ensures your customer's trust and makes sure they will remain a loyal buyer for a long time.
Custom software is developed with high cloud security to protect data from external attacks. Hacking off the shelf products is easier than customized software as it is designed for a company or department. It is hard to breach security.
7. Maintenance
With off the shelf products, you are dependent on the service provider for your software maintenance. This can change any day in the future. The parent company might stop maintaining a particular product because it's outdated or stops providing the service altogether.
You might have to switch to a new system or buy new software entirely which will cost you more than the original cost of setting up the custom solution in the first place. Your business is dependent on other companies for its technical requirements with off the shelf software.
On the other hand, you can manage custom software as long as you want. It is completely under your control.
8. Updates
Updates of off the shelf services are again dependent on the vendor. The software won't be updated as per your business plans.
Custom software solutions give you the freedom to add new features and functionalities at a convenient time. After buying the custom solution your business doesn't have to wait for any update as you are free to create one whenever you need it.
It is true that nobody can predict the future. But we can prepare for it. And custom software solutions are the preparations for a better future for any business.
If you still find yourselves at crossroads about making a clear decision, you can consult a custom software development company to help you figure out the scope of both off the shelf products and custom solutions for your business.