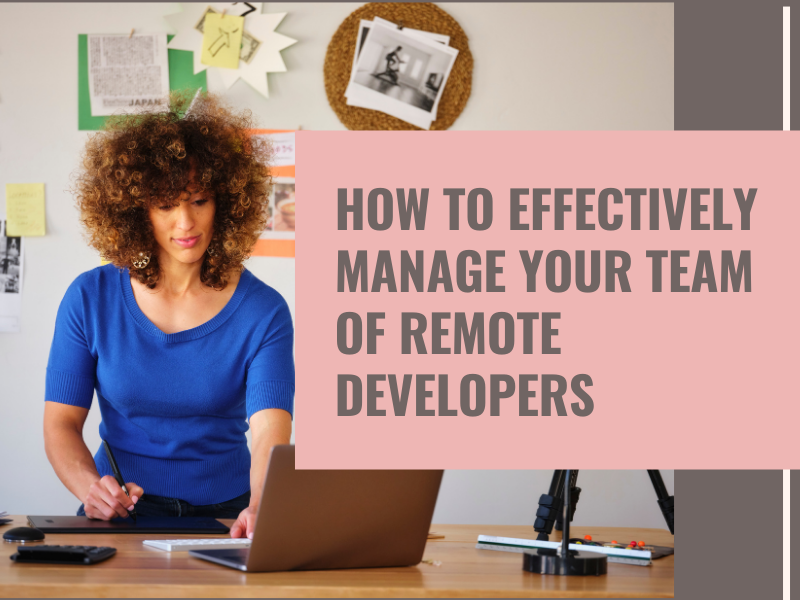 With the increase in remote software development services, the complexity in managing a team of developers that are not functioning from your office has also multiplied. Team managers face multiple issues in keeping up with their software outsourcing company and monitoring their progress.
Irrespective of the hindrances that play a role in smooth management, offshore software developers are undoubtedly in high demand. This is because there are so many perks attached to these kinds of services. Hence, the burden falls on the manager, who must find a midway to derive the benefits while facilitating proper management. Here are some tips to effectively manage your remote developers and ensure collaborative efforts-
1. A Manifesto for Cooperation
As remote developers will not be in your immediate proximity, it is vital to set a tone of cooperation from the very beginning. From the time you
hire offshore software developers
, you need to list down the objectives of the work that all of you will undertake.
In addition, the roles and responsibilities of every person should be communicated effectively. Even the challenges and discrepancies that you might face must be discussed beforehand to avoid complexity. Make sure your team of developers hold this manifesto in utmost regard and abide by it religiously.
2. Define a Work Procedure
When you are managing developers who are located offshore, you need to have a clearly and intricately defined procedure for work.
Conduct a meeting with your in-house and remote developers to discuss and scope and pace of work. Also, give an insight into who is accountable to whom in order to have a smooth functionality.
Elaborate at length what you want from the project. Ensure that you provide a clear vision.
Make sure you interact with your team manager time and again. Effectively communicate the progress and the way the project must be undertaken further.
With a detailed description of how you work on the project, not only will the project pace faster but also remain high in terms of efficiency.
3. Work Across Time Zones
The basics of hiring offshore software developers are that you will have to work around time zones in order to get the best results. This means that you need to certainly show utmost productivity in the 'golden hour', the work time that is common to you and your team. For instance, if you are located in Dubai and you have to look for web development in India, then you must consider the time difference. India is 1.5 hours ahead of Dubai, which gives you a lot many overlapping hours.
Actively functioning in the overlapping hours, you need to take a report from your team and design the work course for the coming day. In some cases, you will not get overlapping hours and that is when judicious decisions become integral. Let's say your team is based in India while you are in New York. With no working hours in common, you need to ensure email communication everyday. This should be pretty simple, including details like work done by the team yesterday, work designated for today, and apparent issues. Also, ensure that your software outsourcing company can reach out to you in emergency situations even outside the working hours.
4. Work on Effective Communication
In software development services, where you function with collaborative efforts, it is important to work on effective and clear communication. Plan things out in a way that both your in-house and offshore team are on the same page, and there is no scope for misunderstandings.
If you have the privilege of golden hour, ensure that you conduct daily follow-ups, weekly report exchange, and monthly target analysis. This will ensure that you are kept up-to-date about everything that is happening and can direct the further course.
Also, give responsibility for writing minutes of these meetings to a person. Send across the details to all employees for them to refer.
On a contrary case where you do not have overlapping working hours, facilitate email communication. In addition, adjust schedules once a week to conduct a meeting for better understanding.
Holding a face-to-face meeting is essential in building a rapport with your team members. It promotes better flow of information and the discussion is far more insightful. Make sure to hold such meetings at least once a month.
5. Build Rapport with Employees
You can never underestimate the importance of establishing a personal connection with your employees. An environment that only pushes people to work becomes toxic after a point of time. On the contrary, if you promote conversation with your offshore software developers about their lifestyle, hobbies, etc., it will help you better understand and function with them.
In addition to holding such small talks with your software outsourcing company, also keep a track of employees' birthdays and important holidays. Wish them to promote personal warmth and connection. Another part of building a good rapport is rewarding your employees for their accomplishments, even if it is with a compliment. Say things that would make them want to perform better.
6. Use Necessary Tools
When undertaking collaborative tasks, certain tools make it very easy for you to function better. For instance, if you are considering web development in India while being located in London, you would want assistance to better communicate and collaborate. This is exactly what the tools do for you- provide you a medium to better the work process. Some of the tools that you should certainly consider when taking software development services are as follows-
Slack- Every person who is in the corporate sector knows about this masterpiece. Having an edge over usual text tools, Slack helps you assign tasks, attach documents, integrate tools, and promote good team management.
Skype- As a pre-installed set up in every Windows PC, Skype is highly preferred for video conferencing in work settings.
UberConference- UberConference is currently an emerging name in the field of video conferencing. It basically works with anything that has a browser.
7. Hire Passionate Employees
The process of an efficient collaboration starts with the recruitment process. When considering a software outsourcing company, conduct a thorough background research by checking the portfolio, getting word of mouth, and conducting interviews. These basic steps will help you understand the mindset of people you are hiring.
There is as much guidance you can give and hence you need people who themselves are organized and motivated in the field. This passion becomes apparent when to conduct a one-on-one interview during the recruitment process. Take into account red flags, if any, during the interaction. Do discuss projects and understanding of the field to get an insight into his understanding of the field.
Wrapping Up
Irrespective of the high desirability of offshore software developers, people get intimidated by the thought of managing them. However, it is not as difficult as it may sound. When considering remote software development services, you need to keep a fairly disciplined approach from the very beginning. Being a good communicator only adds to the flexibility of the process.