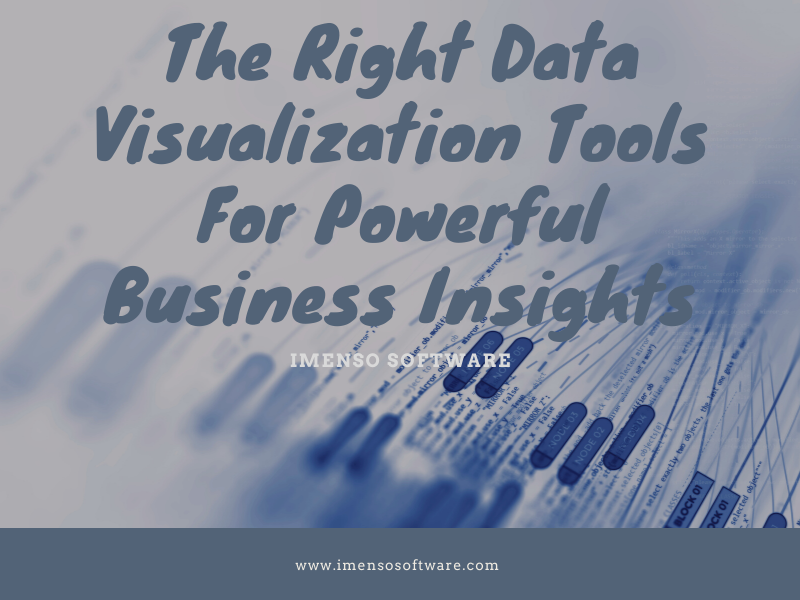 Data visualization is not just some new trending fad. Almost every industry has adopted business analytics solutions for collecting, interpreting and transforming their business data.
Humans are visual creatures. It is easy for us to connect the dots, plots of huge data statistics and make them accessible and understandable quickly. Data visualization tools do just that. They turn a set of numbers into efficient, information-rich graphs, charts, plots and graphics for business intelligence.
Basic Features of Any Data Visualization Software
There are some common features of every data visualization software available today. Ease of use is the prime highlight. Some best visualization tools have an inbuilt intuitive feel for data presentation and these are very well documented. But some other complex data visualization software is there too. These apps have great capabilities. On a single dashboard they can present multiple data sets, but irrespective of the higher functionality these are not in the best instruments list due to lack of user-friendliness.
The best tools in this list have been evaluated on many factors. All the below-mentioned tools can create charts, graphs, tables and maps. There are exceptions in the output though. Some tools render only a particular type of chart or graph very well. But still, these tools have a rank in the best of the best. How much does it cost is another important consideration. A very high price doesn't put out a tool from the competition, although the high price must be backed by better support and features.
Here are the best data visualization tools:
1. Tableau
Tableau is the grandmaster of all the data visualization tools and for some good reasons. The tool is designed to input a lot of data and render impressive charts in very less time. The tool is very popular among big data analytics companies and huge enterprises that deals with AI and ML. it has more than 57,000 accounts from various industries.
Anybody from a space scientist to a CEO to a data analyst can use the tool. It provides the required data visualization format in a manner where it is easy to read data from different perspectives and build opinions. The BI software platform guarantees against any security threat and promises to fix any as soon as reported.
In the tableau, there are easy functions to present, rearrange, and format data to make reports for different metrics and extract actionable insights to make data-backed business decisions. It is available for a data analyst or an entire organization.
2. Microsoft Power BI
Microsoft Power BI is a business analytics solution for every enterprise. Its focus on creating a data-driven culture with business intelligence in all companies. To empower enterprises with hidden insights Microsoft Power BI offers analysis, reporting and sharing functions for data in an understandable manner.
Backed by Microsoft, the business intelligence solutions receive regular updates and is very affordable at a monthly price of $9.99 per user for the pro version. The tool has hundreds of different ways for data integration and visualizations with built-in AI and excel functionalities. Microsoft has one of the best support systems with FAQs, forums and live chat with the staff.
3. Zoho Analytics
Zoho Analytics is the most critically acclaimed data visualization tool. Thanks to its drag and drop feature for customizing charts, reports, tables and widgets to see data in the way you want it. The platform is best for beginners and non-technical people. Trusted by some big names like HP and Ikea Zoho along with being beginner-friendly is equally suitable for big corporations.
The pricing stack of Zoho is super affordable. You can try it for free for 2 users with limited features with no time restrain. Or you can upgrade to the basic plan for $22 per month or a higher plan whenever you are ready.
4. QlikView
Owned by Qlik, this data visualization tool is among the most trusted software by companies and employees. Qlikview stores a lot of data to be analysed anytime anywhere. And if the data is huge, the tool connects directly to the source to make the data available 24×7.
The platform is best to collaborate and share data in real-time with colleagues for better decision making. This way you only focus on the most relevant data and drive in-depth analysis with multiple perspectives.
With customizable setup and advanced features, Qlikview also provides business intelligence, analytics and enterprise reporting solutions.
5. Sisense
Sisense is the best data visualization for data engineers and developers. Using the platforms data engineers and developers can use customized data analytics solution to build powerful BI apps. With live data and cached data, Sisense lets anyone embed custom data visualizations for a company's internal team or their clients.
Special features like custom UI for branded analytic experience, a dedicated portal for developers, and self-service dashboards make Sisense a truly different platform for data visualization with multifaceted utility.
There is 24-hour customer service support for all the sisense users plus one can pick between cloud-based, windows/Linux, on-premise or hybrid.
However, they don't have fixed pricing plans. You can go over to their pricing page to get a free quote.
6. Datawrapper
Datawrapper is well known for its ability to create maps and charts. With over 1000 base maps of any area imaginable to pick from. And if they don't have it you can ask and they will create it for you. It is the best platform for bloggers and publications.
Along with maps, the tool is highly useful to design tables and charts. One can create any table or chart they can think of.
The best part is that all the unlimited visualizations are available for free on Datawrapper. You can upgrade to a paid plan of $599 per month if you need it.
7. Infogram
Sometimes representing big data via charts and graphs are not enough. That is where infographics are very useful.
Infogram is a visualization tool that creates interactive colorful infographics, charts, tables and graphs through the drag and drops feature. It has a library of pre-designed templates so that you need to start from scratch. Other things like maps, presentation, analytic dashboard and social media graphics can be easily created on Infogram.
The free plan of Infogram lets users create 10 projects with up to 5 pages each. There is a paid plan of $19 per month which is very affordable for businesses, startups and organizations.
Data is an important asset for any business in the internet world. And a data visualization tool is how you achieve success through your data.
To know about such business intelligence solution and their implementation, talk to our
BI experts
today.