Time has become one of the greatest constraints for individuals all over the world. Consumers today are so hard-pressed for time that it has made way for the whole new on-demand economy. Companies have introduced the brilliant service of on-demand grocery delivery and made the lives of people more convenient. By using an on-demand grocery delivery app you can always keep your fridge stocked with goodies and your favorite food.
With these apps, all you need to do is make a few clicks, add your address and items you want to order, and make an online payment. Your order will be delivered to your doorsteps within a few hours. Many such apps have surfaced over the past few years and made a name for themselves in the market.
This blog is all about the top 5 on-demand grocery delivery apps that are ruling the market in the US.
Top 5 On-Demand Grocery Delivery Apps in the US:
Shipt:
Shipt was introduced to the market in 2014. In just a time of 6 years, Shipt has created huge waves with its services. It offers its consumers a yearly membership charging 99 USD and a monthly paid service worth 14 USD. Becoming a paid member allows you to avail your favorite and everyday essentials without paying any delivery charge.
Features: Shipt offers some exciting options to choose from such as get-well kits and meal planning. Shipt is growing stronger with each passing day. Using Shipt is a great convenience for people operating on a fixed grocery budget. The app also offers an "On Sale Today" category, where you can buy items at discounted prices. The order history allows you to quickly select the items you buy daily.
The app also permits the user to set up their delivery schedules. The app has a unique rating system that has been exquisitely designed to enhance the user experience. The company has an annual estimated revenue of more than 120 million USD.
Farmigo:
Snacks, original dairy products, delicious meats, and much more can be availed at Farmigo. Farmigo is an online farmer's app that aims at providing consumers with fresh produce and helps farmers earn better rates than a supermarket.
The app was founded in 2009 by Benzi Rosen and Yossi Pik. It's one of the first apps designed to make local farm produce available to consumers. The app has received three rounds of funding worth 26 million USD up till 2018. It generates a revenue of over 3.5 million USD every year.
Features: Farmigo has an intuitive and user-friendly interface that enables the user to place orders without any glitches. The app also offers a community section, that offers valuable information about the community. The highlight of the app is that everything you get is fresh.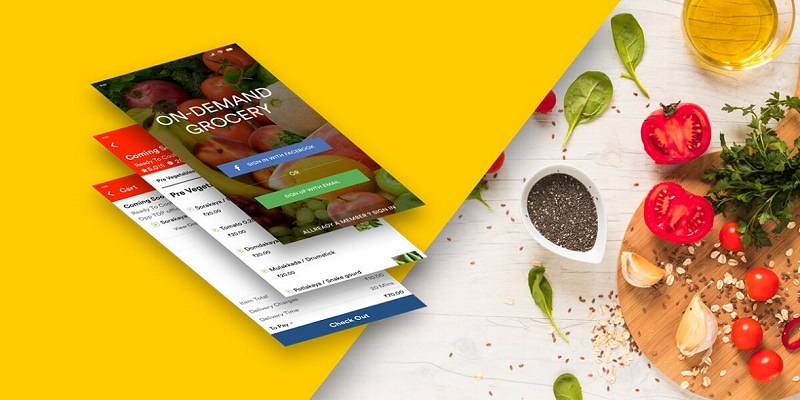 Walmart:
The Walmart grocery store was introduced to this world in 2007. The app allows its customers to shop for household and food products. The platform offers its users the convenience of curbside pick-up and home delivery from about 1600 of their stores. The app charges somewhere between 6 USD to 9 USD per order and is available in almost all the states of the US.
The revenue generated by online sales in 2018 by Walmart observed an increase of 40% from the previous year. The estimated earning in 2018 was 138.8 billion USD.
Features: Walmart offers an advanced app for making orders. Apart from the basic delivery features, it offers numerous time slots for online grocery pickup. The app offers a special feature for aged people with a medical condition known as "at-risk time slots". Other than this the users can also reserve a no-contact delivery or pick-up time and a two-hour express delivery. Due to the pandemic, Walmart introduced a no-touch payment feature at all the Walmart stores using the Walmart Pay Tool.
Instacart:
As the name suggests the platform can deliver your groceries to your doorsteps within an hour. Also, Instacart has signed affiliations with your favorite stores such as Whole Foods Market, Petco, Fairway, and CVS, so you can order your favorite food home at the tip of your fingers.
The company is founded by Apoorva Mehta in 2015, a former employee of Amazon. The platform offers an annual member for 149 USD. To order, your minimum order should be 10 USD and you can avail of the free delivery service if your order exceeds 35 USD respectively. The app received a whopping 150 million USD funding in 2018, raising its total funding amount to 350 million USD.
Features: Instacart has transformed the way users shop for groceries online. It has only express lanes at some of the most famous stores at Costco, Whole Foods, etc. To help the users navigate quickly through large volumes of products the app offers the feature of aisle mapping.
Peapod:
Peapod is an efficient grocery delivery app that works intelligently for its users. Peapod was set up in 1989 in Chicago by Thomas Parkinson and Andrew Parkinson. The company has an employee base of around 4500 people.
Peapod happens to be one of the largest grocery delivery services in the US earning annual revenue of 200 million USD.
Features: The app supports a feature named "Order Genius" that keeps a tab on your frequent purchases and suggests items in congruence with your preferences. The app also provides "Meal Kits" so that you can order all ingredients required to make a particular dish. It also has an express shop that allows user to type their list, submit it and receive product suggestions.
Wrapping Up:
Above we learned about the top 5 on-demand grocery delivery companies that are generating significant revenue in the US. What are your thoughts on the future of the on-demand grocery delivery market? Please express your views in the comment sections.